Analytical plateform
Characterize compounds from complex samples
The analytical chemistry platform is composed of adaptable chromatographic equipments set and a Raman spectrometer for routine or more specific analyses. Through the identification and quantification of chemical compounds from complex samples, it allows a better understanding and measurement of the efficiency of the processes implemented by the Chair of Biotechnology. The platform is composed of a wide variety of chromatographic apparatus: gas, liquid or ion chromatography. This provides a wide range of analysable molecules from biotechnologies: organic acids, sugars, alcohols, phenols, lipids, inorganic ions and light gases in particular.
Contact
Cédric Guérin
cedric.guerin@centralesupelec.fr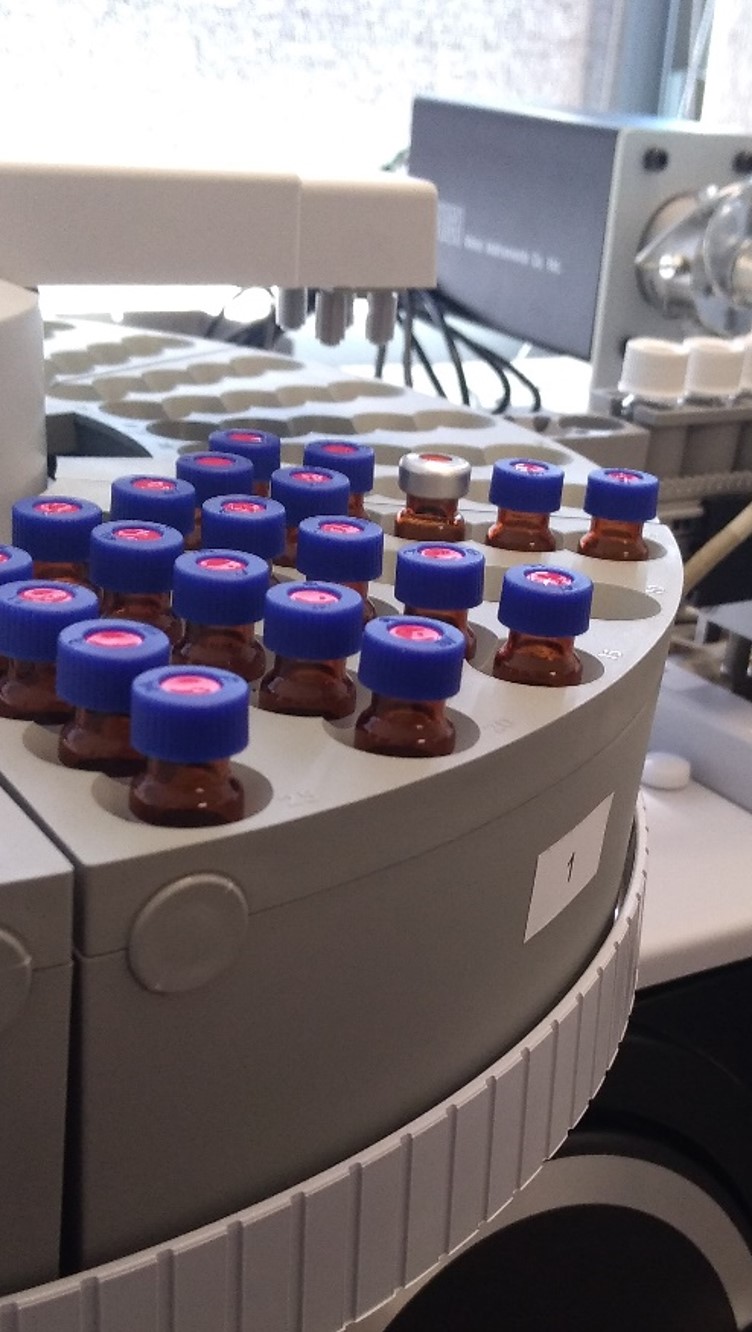 Our equipments
The separation mechanisms used are intended to be as adaptable as possible: reverse phase (RP), non-aqueous reverse phase (NARP), hydrophilic interaction chromatography (HILIC) or ion exchange.
HPLC-RI and HPLC-FLD - High-performance liquid chromatographic analysis two-channels equipped with refractive index and fluorescence detectors (Ultimate 3000, Thermo Fisher Scientific) - Determination of organic acids, monosaccharides and alcohols in the g/L range.
UHPLC-UV-MS - Ultra high performance liquid chromatographic analysis equipped with a UV-Visible detector and a single quadrupole mass spectrometer (Ultimate 3000 and MSQ Plus, Thermo Fisher Scientific) - Versatile tool used for aldehydes, amines, phenols, sugars.
TIMS-TOF - Liquid chromatographic analysis UHPLC (Elute OLE, Bruker) coupled to a high-resolution QToF mass spectrometer with IMS ion mobility - Tool for the quantification of trace compounds in complex biological matrices and high-throughput screening of unknown or suspected molecules
IC - Ion chromatographic analysis two channels with eluent generators and conductivity detectors (ICS-5000+, Thermo Fisher Scientific) - Quantification of organic acids, inorganic anions and cations.
GC-MS/MS - Gas chromatographic analysis coupled with FID and triple quadrupole mass spectrometer (GC-2010Plus and GCMS TQ-8040, Shimadzu) - Quantification of fatty acids, phenols and some aldehydes.
µ-GC - Gas chromatographic analysis, microchromatograph with three modules (μ-GC 490, Agilent) - On-line analysis on laboratory pilots or off-line via sampling bags, allows the quantification of permanent gases and light hydrocarbons.
Spectromètre Raman, equipped with a 993 nm excitation laser (Kaiser Raman RXN2 1000, Endress Hauser). 4-channel analyzer, equipped with immersion and non-contact probes for in-situ monitoring of bioprocesses.
Examples of applications
Determination of lipid profiles extracted from microalgae.

Determination of the composition of lignocellulosic biomass, determination of structural sugars.

Follow-up of an alcoholic fermentation process by the determination of mono or di-saccharides and major metabolites.

Determination of the composition of biogas, biomethane, syngas and biohydrogen.

Measurement of nutrient consumption during the growth of microalgae.

Measurement of product purity and determination of impurities for purification processes.